Noche de Animas. ComMunity Project
The second phase of this Project was a related collaborative community project.
In an effort to encourage community members to document their own traditions, MDP and the Centro Cultural Comunitario "Tzintzuntzan" sponsored, with the collaboration of Tarhimu Taller of Ihuatzio, an intensive filming and editing workshop for interested young members of the municipality.
Following a public call for applications and the selection of participants, this free-of-charge workshop was offered over five weekends in September and October of 2015.
Participants learned to produce, direct, film, edit and present a short cultural documentary.
Rubén Abruña, an award-winning filmmaker, an Adobe Premiere Pro CC Certified Expert, an Adobe Premiere Pro CC Certified Instructor, an Apple Certified Trainer for FCPX, and an Avid Certified Professional; and Armando Espinosa Prieto, Executive Director of Metamorfosis Documentation Project, taught the workshop.
The nine participants worked in three small production units. Each unit selected a distinct relevant cultural topic of interest to the community.
Three short documentaries were produced, filmed and edited during the workshop itself.
During the first two weeks each production unit completed the production of their documentary. This included organizing the production, conducting interviews, and filming the necessary supporting footage for their film.
During the remaining three weeks participants attended six intensive editing classes, during which they accomplished the editing of their documentaries.
On the final day of the workshop, October 18th, the finished short documentaries were screened for the public in the Centro Cultural Comunitario "Tzintzuntzan".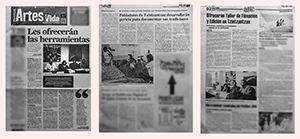 Press